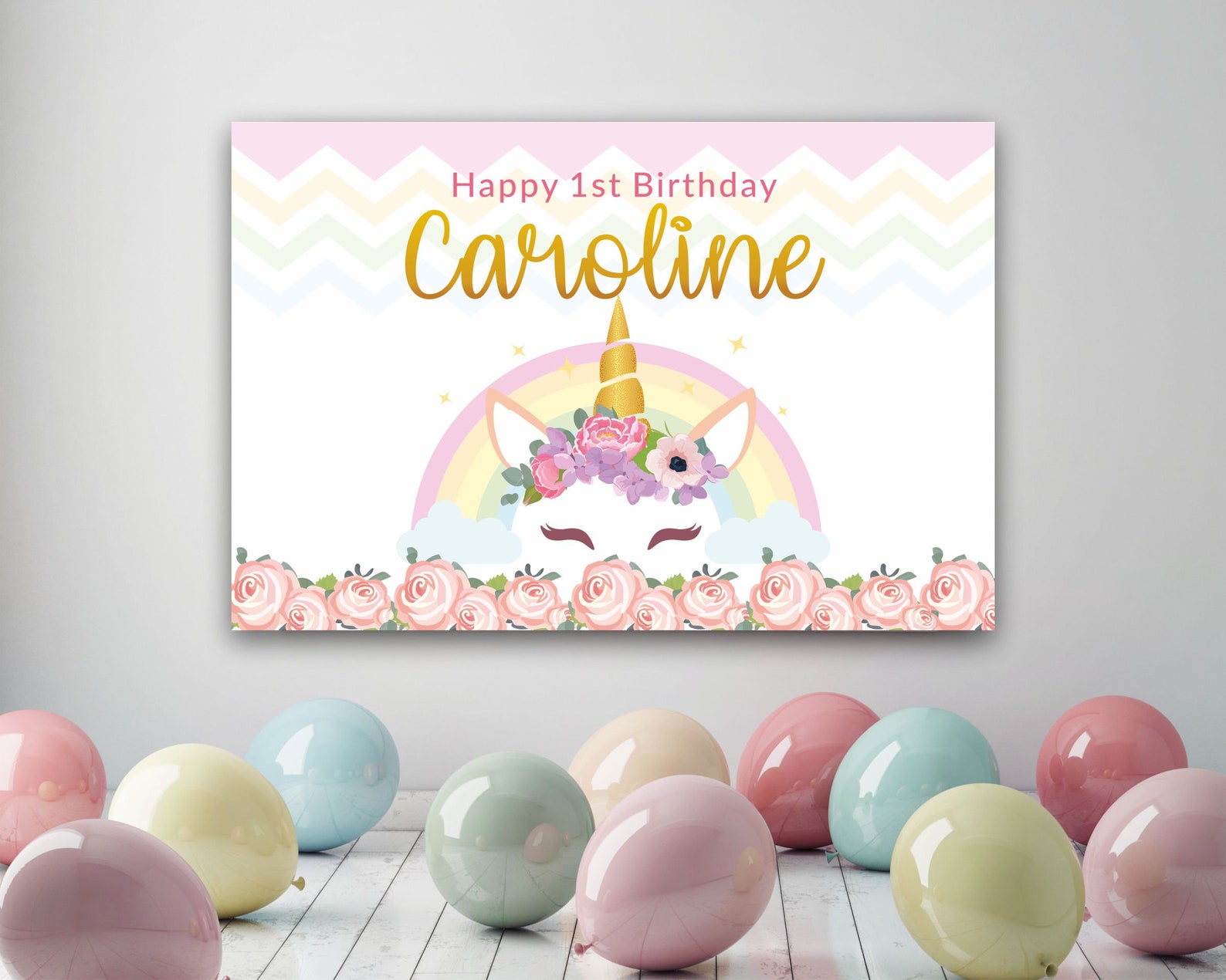 Having a Unicorn Birthday? With this Unicorn Birthday Backdrop, give to your cute little one the best birthday ever with this fantastic custom Unicorn theme featuring! The Backdrop is an important element of any dessert table, because it really sets the tone for your theme.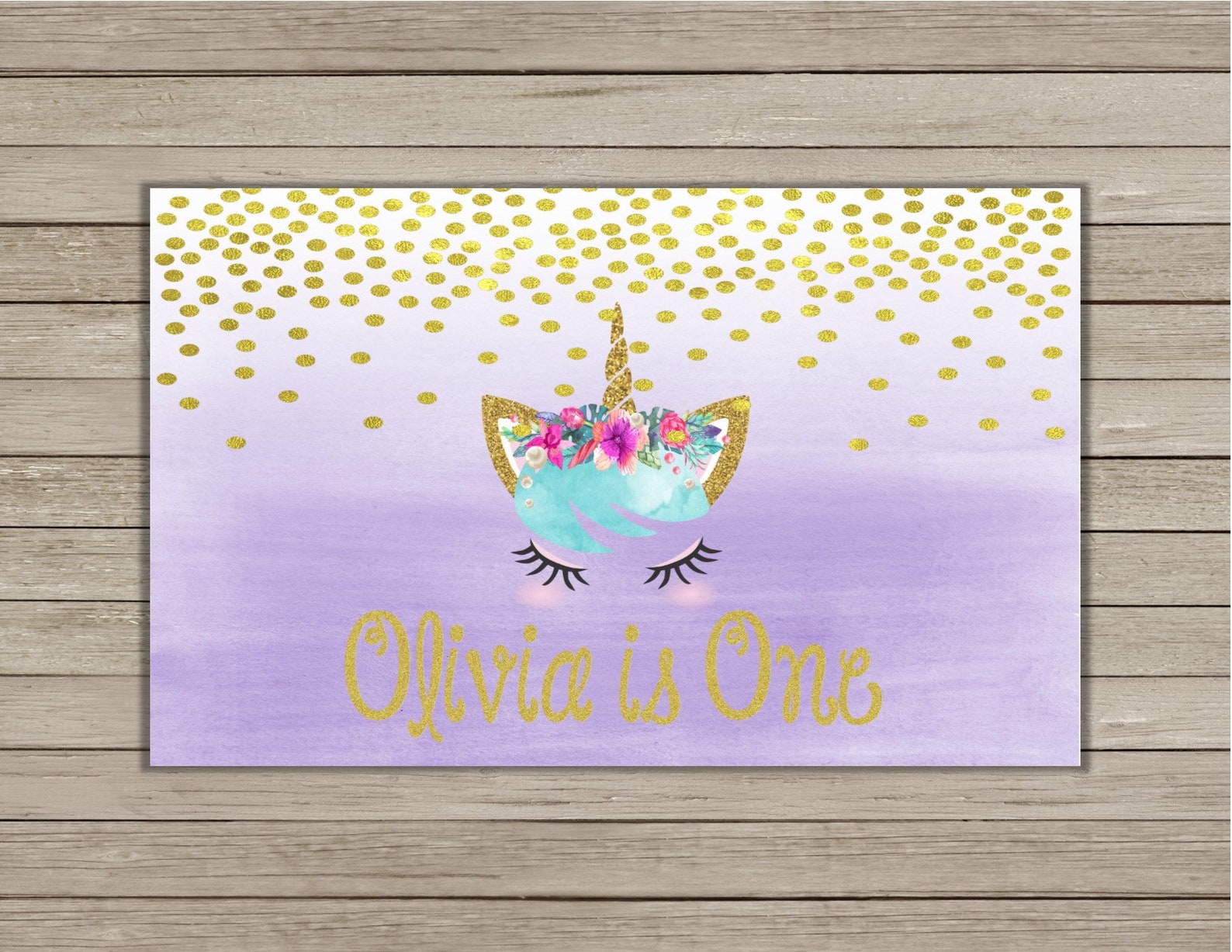 Unicorn Birthday Backdrop Printed and Shipped Custom Unicorn Backdrop Personalized Unicorn Backdrop
Personalized Unicorn Backdrop is a great addition to any magical affair!
***THE DETAILS***
Measures 30 x 48
Printed on durable poly matte vinyl using high-quality inks
Shipped in a cylindrical tube for safe damage-free shipping.
Find your Unicorn Backdrop by Size!
1'x1.5′ Ft or 12″x18″ Inches
1.5'x3′ Ft or 18″x36″ Inches
1.5'x4′ Ft or 18″x48 Inches
2'x3′ Ft or 24″x36″ Inches
2'x4′ Ft or 24″x48″ Inches *Popular Size!*
2'x6′ Ft or 24″x72″ Inches
2.5'x4′ Ft or 30″x48″ Inches
2.5'x5′ Ft or 30″x60″ Inches
3'x1′ Ft or 36″x12″ Inches
3'x2′ Ft or 36″x24″ Inches
3'x3′ Ft or 36″x36″ Inches
3'x4′ Ft or 36″x48″ Inches
3'x5′ Ft or 36″x60″ Inches
3'x5.5′ Ft or 36″x66″ Inches
3'x6′ Ft by 36″x72″ Inches
3'x8′ Ft or 36″x96″ Inches
3.5'x5′ Ft or 42″x60″ Inches
4'x2′ Ft or 48″x24″ Inches *Popular Size!*
4'x3′ Ft or 48″x36″ Inches
4'x4′ Ft or 48″x48″ Inches
4'x5′ Ft or 48″x60″ Inches
4.5'x6′ Ft or 54″x72″ Inches
4'x6′ Ft or 48″x72″ Inches
4'x8′ Ft or 48″x96″ Inches *Popular Size!*
4'x10′ Ft or 48″x120″ Inches
5'x3′ Ft or 60″x36″ Inches
5'x3.5′ Ft or 60″x42″ Inches
5'x4′ Ft or 60×48″ Inches
5'x5′ Ft or 60″x60″ Inches
5'x6′ Ft or 60″x72″ Inches
5'x7′ Ft or 60″x84″ Inches *Popular Size!*
5'x10′ Ft or 60″x120″ Inches
6'x2′ Ft or 72″x24″ Inches
6'x3′ Ft or 72″x36″ Inches
6'x4′ Ft or 72″x48″ Inches
6'x5′ Ft or 72″x60″ Inches
6'x6′ Ft or 72″x72″ Inches *Popular Size!*
6'x7′ Ft or 72″x84″ Inches
6'x8′ Ft or 72″x96″ Inches
7'x4′ Ft or 84″x48″ Inches
7'x5′ Ft or 84″x60″ Inches *Popular Size!*
7'x7′ Ft or 84″x84″ Inches
7'x8′ Ft or 84″x96″ Inches
7'x10′ Ft or 84″x120″ Inches
8'x4′ Ft or 96″x48″ Inches
8'x5′ Ft or 96″x60″ Inches
8'x6′ Ft or 96″x72″ Inches
8'x8′ Ft or 96″x96″ Inches *Popular Size!*
8'x10′ Ft or 96″x120 Inches *Popular Size!*
8'x12 Ft or 96″x144″ Inches
8'x20Ft or 96″x240″ Inches