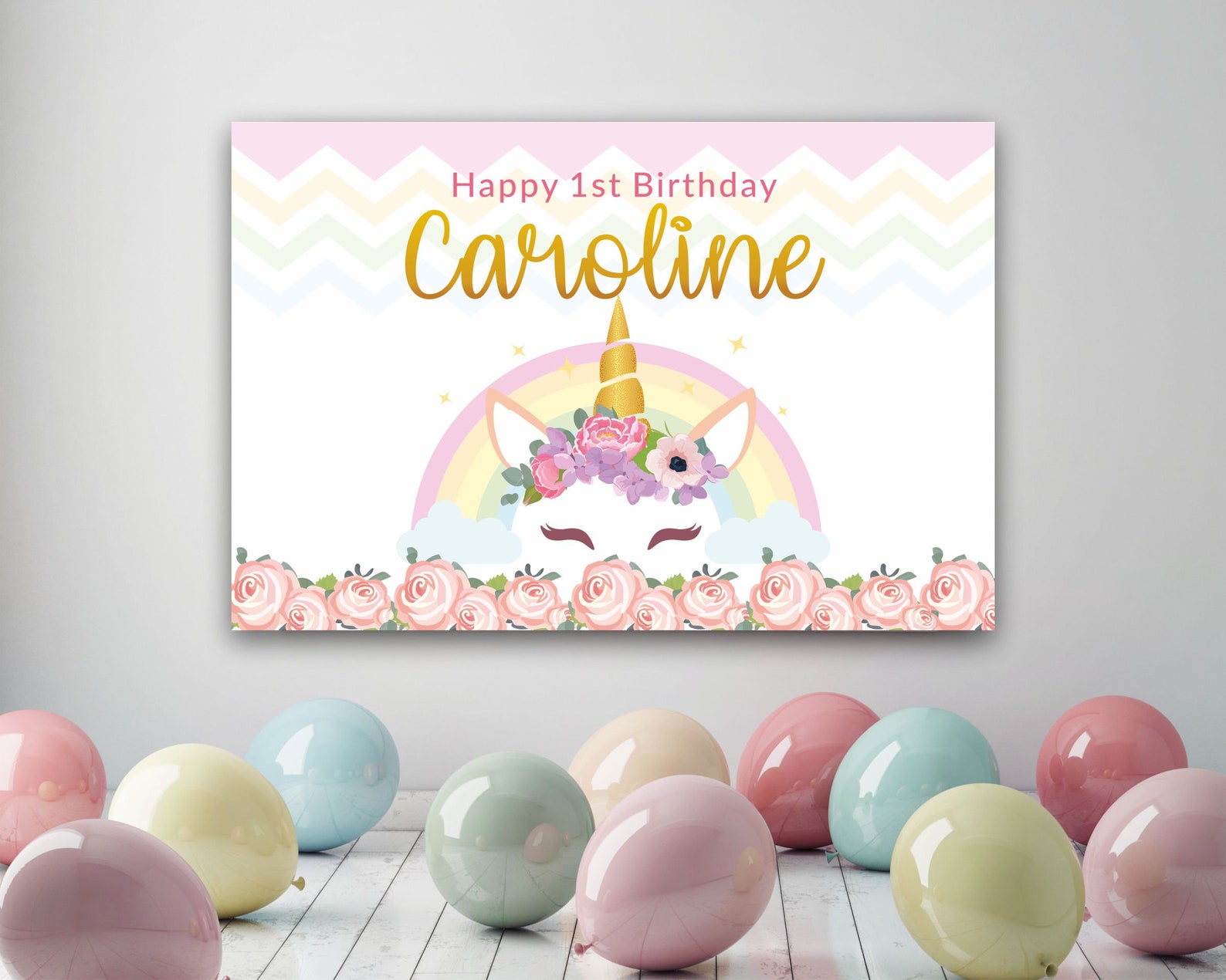 Having a Unicorn Birthday? With this Unicorn Birthday Backdrop, give to your cute little one the best birthday ever with this fantastic custom Unicorn theme featuring! The Backdrop is an important element of any dessert table, because it really sets the tone for your theme.
Find your Unicorn Backdrop by Size!
1'x1.5′ Ft or 12″x18″ Inches
1.5'x3′ Ft or 18″x36″ Inches
1.5'x4′ Ft or 18″x48 Inches
2'x3′ Ft or 24″x36″ Inches
2'x4′ Ft or 24″x48″ Inches *Popular Size!*
2'x6′ Ft or 24″x72″ Inches
2.5'x4′ Ft or 30″x48″ Inches
2.5'x5′ Ft or 30″x60″ Inches
3'x1′ Ft or 36″x12″ Inches
3'x2′ Ft or 36″x24″ Inches
3'x3′ Ft or 36″x36″ Inches
3'x4′ Ft or 36″x48″ Inches
3'x5′ Ft or 36″x60″ Inches
3'x5.5′ Ft or 36″x66″ Inches
3'x6′ Ft by 36″x72″ Inches
3'x8′ Ft or 36″x96″ Inches
3.5'x5′ Ft or 42″x60″ Inches
4'x2′ Ft or 48″x24″ Inches *Popular Size!*
4'x3′ Ft or 48″x36″ Inches
4'x4′ Ft or 48″x48″ Inches
4'x5′ Ft or 48″x60″ Inches
4.5'x6′ Ft or 54″x72″ Inches
4'x6′ Ft or 48″x72″ Inches
4'x8′ Ft or 48″x96″ Inches *Popular Size!*
4'x10′ Ft or 48″x120″ Inches
5'x3′ Ft or 60″x36″ Inches
5'x3.5′ Ft or 60″x42″ Inches
5'x4′ Ft or 60×48″ Inches
5'x5′ Ft or 60″x60″ Inches
5'x6′ Ft or 60″x72″ Inches
5'x7′ Ft or 60″x84″ Inches *Popular Size!*
5'x10′ Ft or 60″x120″ Inches
6'x2′ Ft or 72″x24″ Inches
6'x3′ Ft or 72″x36″ Inches
6'x4′ Ft or 72″x48″ Inches
6'x5′ Ft or 72″x60″ Inches
6'x6′ Ft or 72″x72″ Inches *Popular Size!*
6'x7′ Ft or 72″x84″ Inches
6'x8′ Ft or 72″x96″ Inches
7'x4′ Ft or 84″x48″ Inches
7'x5′ Ft or 84″x60″ Inches *Popular Size!*
7'x7′ Ft or 84″x84″ Inches
7'x8′ Ft or 84″x96″ Inches
7'x10′ Ft or 84″x120″ Inches
8'x4′ Ft or 96″x48″ Inches
8'x5′ Ft or 96″x60″ Inches
8'x6′ Ft or 96″x72″ Inches
8'x8′ Ft or 96″x96″ Inches *Popular Size!*
8'x10′ Ft or 96″x120 Inches *Popular Size!*
8'x12 Ft or 96″x144″ Inches
8'x20Ft or 96″x240″ Inches
What's more fun than a Birthday Party? It's fun to attend birthday parties with well planned themes and you can see the love and care a party planner has for guests! This blog is about sharing a passion for birthday party themes with you!