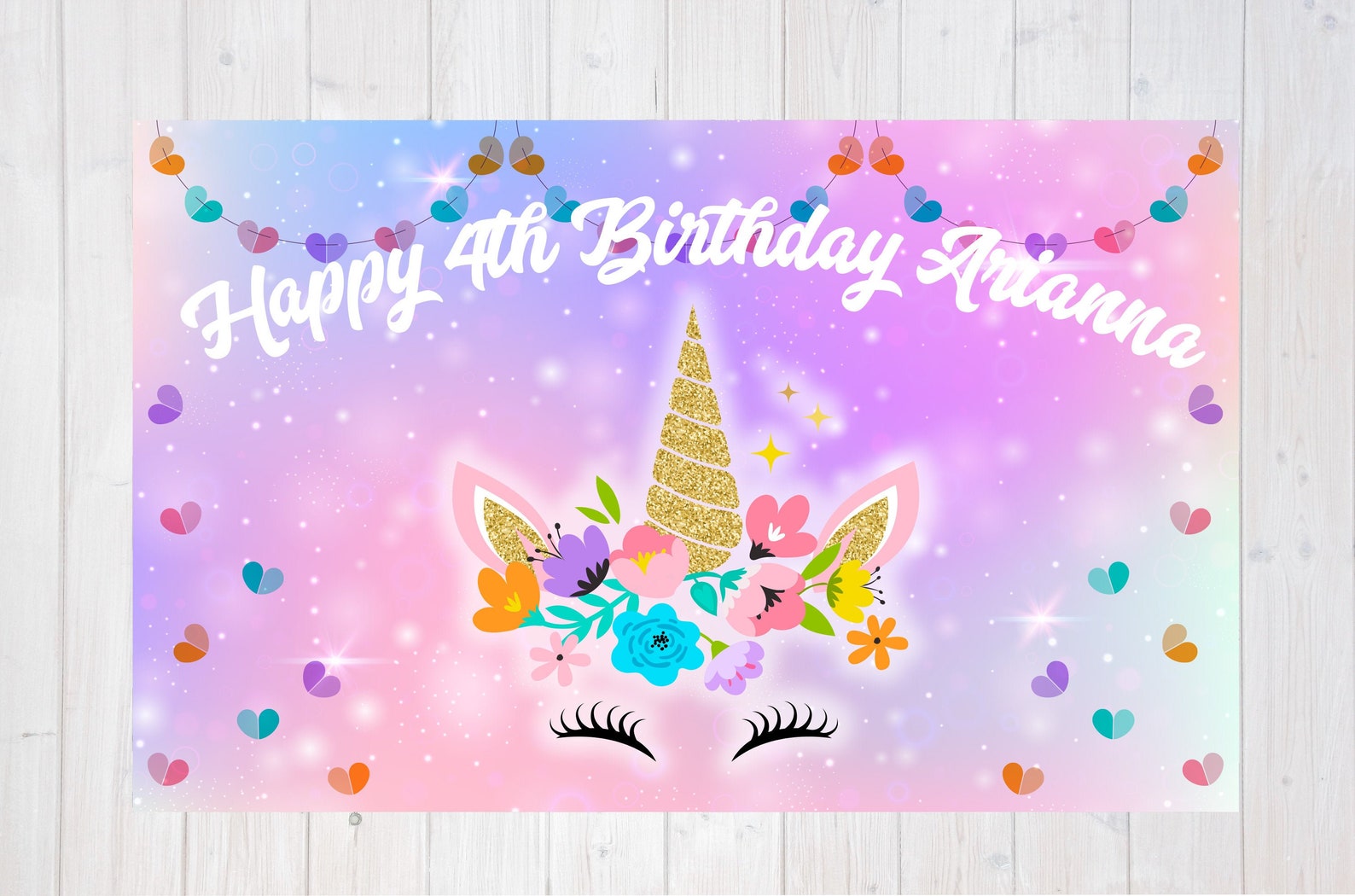 Unicorn Birthday Banner Backdrop Wall Art Decor Custom Background Gift Party Personalized Poster Print
High Quality Banner Vinyl is used to print our birthday banners. Our material and inks are waterproof so do not worry about this matter.
—–SIZES—–
36″W x 23″H inches
46″W x 30″H inches
56″W x 36″H inches
72″W x 46″H inches
82″W x 52″H inches
92″W x 58″H inches
Find your Unicorn Backdrop by Size!
1'x1.5′ Ft or 12″x18″ Inches
1.5'x3′ Ft or 18″x36″ Inches
1.5'x4′ Ft or 18″x48 Inches
2'x3′ Ft or 24″x36″ Inches
2'x4′ Ft or 24″x48″ Inches *Popular Size!*
2'x6′ Ft or 24″x72″ Inches
2.5'x4′ Ft or 30″x48″ Inches
2.5'x5′ Ft or 30″x60″ Inches
3'x1′ Ft or 36″x12″ Inches
3'x2′ Ft or 36″x24″ Inches
3'x3′ Ft or 36″x36″ Inches
3'x4′ Ft or 36″x48″ Inches
3'x5′ Ft or 36″x60″ Inches
3'x5.5′ Ft or 36″x66″ Inches
3'x6′ Ft by 36″x72″ Inches
3'x8′ Ft or 36″x96″ Inches
3.5'x5′ Ft or 42″x60″ Inches
4'x2′ Ft or 48″x24″ Inches *Popular Size!*
4'x3′ Ft or 48″x36″ Inches
4'x4′ Ft or 48″x48″ Inches
4'x5′ Ft or 48″x60″ Inches
4.5'x6′ Ft or 54″x72″ Inches
4'x6′ Ft or 48″x72″ Inches
4'x8′ Ft or 48″x96″ Inches *Popular Size!*
4'x10′ Ft or 48″x120″ Inches
5'x3′ Ft or 60″x36″ Inches
5'x3.5′ Ft or 60″x42″ Inches
5'x4′ Ft or 60×48″ Inches
5'x5′ Ft or 60″x60″ Inches
5'x6′ Ft or 60″x72″ Inches
5'x7′ Ft or 60″x84″ Inches *Popular Size!*
5'x10′ Ft or 60″x120″ Inches
6'x2′ Ft or 72″x24″ Inches
6'x3′ Ft or 72″x36″ Inches
6'x4′ Ft or 72″x48″ Inches
6'x5′ Ft or 72″x60″ Inches
6'x6′ Ft or 72″x72″ Inches *Popular Size!*
6'x7′ Ft or 72″x84″ Inches
6'x8′ Ft or 72″x96″ Inches
7'x4′ Ft or 84″x48″ Inches
7'x5′ Ft or 84″x60″ Inches *Popular Size!*
7'x7′ Ft or 84″x84″ Inches
7'x8′ Ft or 84″x96″ Inches
7'x10′ Ft or 84″x120″ Inches
8'x4′ Ft or 96″x48″ Inches
8'x5′ Ft or 96″x60″ Inches
8'x6′ Ft or 96″x72″ Inches
8'x8′ Ft or 96″x96″ Inches *Popular Size!*
8'x10′ Ft or 96″x120 Inches *Popular Size!*
8'x12 Ft or 96″x144″ Inches
8'x20Ft or 96″x240″ Inches