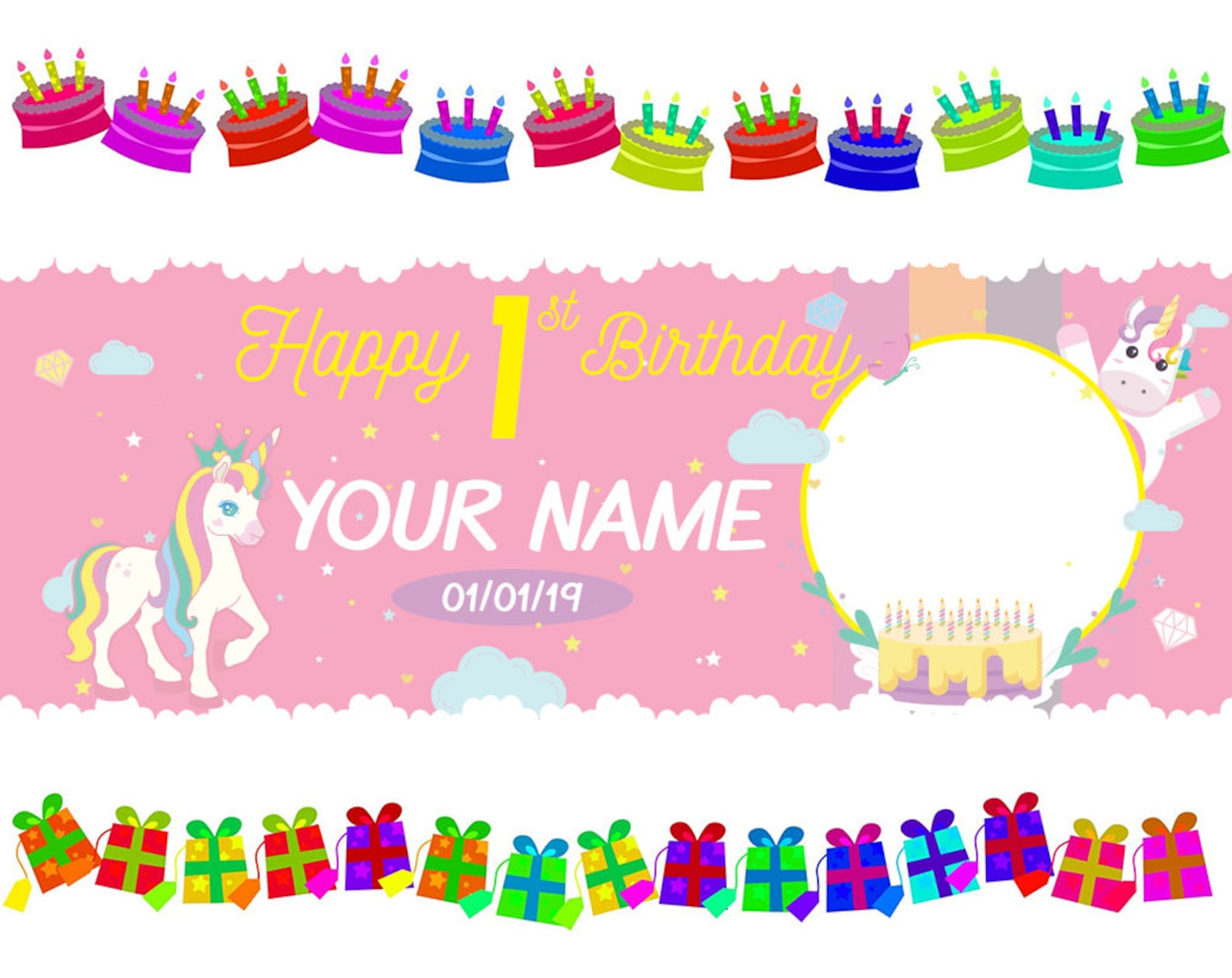 1st Birthday Banner | Unicorn Party Decor | Unicorn Theme
Give your cute little girl and the guests a warm welcome with this 1st birthday Unicorn
Banner. This first birthday banner is great for first birthday ideas.
· Birthday banner can be a backdrop or an additional party decoration.
· Made of high-quality vinyl, durable, lightweight.
· Personalized by adding your name.
· Quick and easy to mount.
· It comes with Grommets.
· Can be used for both indoor and outdoor.
Here are some important details of the BANNER:
· Sizes 18″x 4′, 30″ x 6′, 3′ x 6′, 4′ x 10′
· 13 oz scrim vinyl banner
· Grommets
· Straight cut
· Two Day turn time
· Made in the USA
Find your Unicorn Backdrop by Size!
1'x1.5′ Ft or 12″x18″ Inches
1.5'x3′ Ft or 18″x36″ Inches
1.5'x4′ Ft or 18″x48 Inches
2'x3′ Ft or 24″x36″ Inches
2'x4′ Ft or 24″x48″ Inches *Popular Size!*
2'x6′ Ft or 24″x72″ Inches
2.5'x4′ Ft or 30″x48″ Inches
2.5'x5′ Ft or 30″x60″ Inches
3'x1′ Ft or 36″x12″ Inches
3'x2′ Ft or 36″x24″ Inches
3'x3′ Ft or 36″x36″ Inches
3'x4′ Ft or 36″x48″ Inches
3'x5′ Ft or 36″x60″ Inches
3'x5.5′ Ft or 36″x66″ Inches
3'x6′ Ft by 36″x72″ Inches
3'x8′ Ft or 36″x96″ Inches
3.5'x5′ Ft or 42″x60″ Inches
4'x2′ Ft or 48″x24″ Inches *Popular Size!*
4'x3′ Ft or 48″x36″ Inches
4'x4′ Ft or 48″x48″ Inches
4'x5′ Ft or 48″x60″ Inches
4.5'x6′ Ft or 54″x72″ Inches
4'x6′ Ft or 48″x72″ Inches
4'x8′ Ft or 48″x96″ Inches *Popular Size!*
4'x10′ Ft or 48″x120″ Inches
5'x3′ Ft or 60″x36″ Inches
5'x3.5′ Ft or 60″x42″ Inches
5'x4′ Ft or 60×48″ Inches
5'x5′ Ft or 60″x60″ Inches
5'x6′ Ft or 60″x72″ Inches
5'x7′ Ft or 60″x84″ Inches *Popular Size!*
5'x10′ Ft or 60″x120″ Inches
6'x2′ Ft or 72″x24″ Inches
6'x3′ Ft or 72″x36″ Inches
6'x4′ Ft or 72″x48″ Inches
6'x5′ Ft or 72″x60″ Inches
6'x6′ Ft or 72″x72″ Inches *Popular Size!*
6'x7′ Ft or 72″x84″ Inches
6'x8′ Ft or 72″x96″ Inches
7'x4′ Ft or 84″x48″ Inches
7'x5′ Ft or 84″x60″ Inches *Popular Size!*
7'x7′ Ft or 84″x84″ Inches
7'x8′ Ft or 84″x96″ Inches
7'x10′ Ft or 84″x120″ Inches
8'x4′ Ft or 96″x48″ Inches
8'x5′ Ft or 96″x60″ Inches
8'x6′ Ft or 96″x72″ Inches
8'x8′ Ft or 96″x96″ Inches *Popular Size!*
8'x10′ Ft or 96″x120 Inches *Popular Size!*
8'x12 Ft or 96″x144″ Inches
8'x20Ft or 96″x240″ Inches