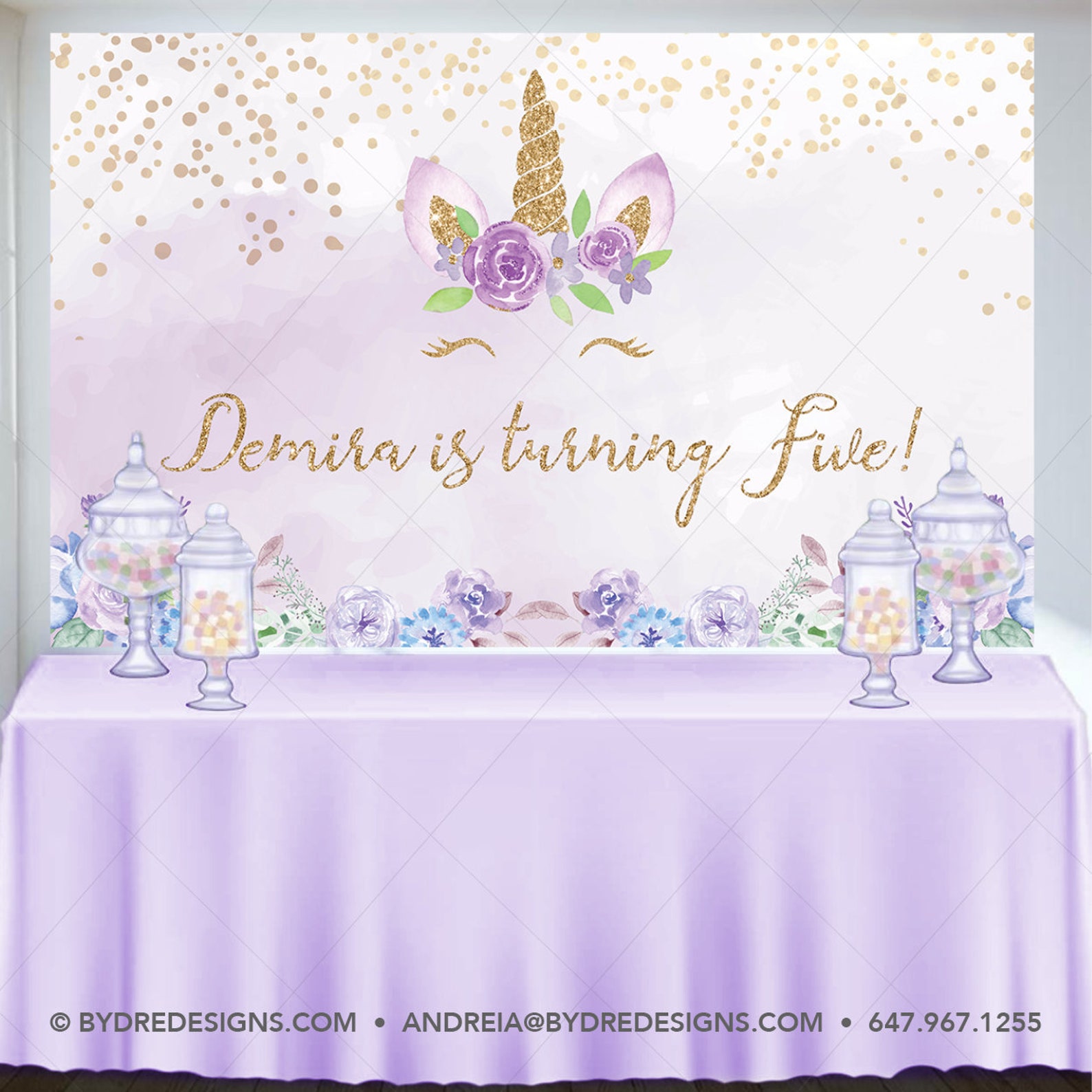 Purple Unicorn Birthday Backdrop, Unicorn Banner
This listing is for a "Magical Unicorn Themed Birthday banner/backdrop".
Banners can be used as a beautiful element of any dessert table or Photo Booth Decor, they are great Photo Props, because it really sets the tone for your theme.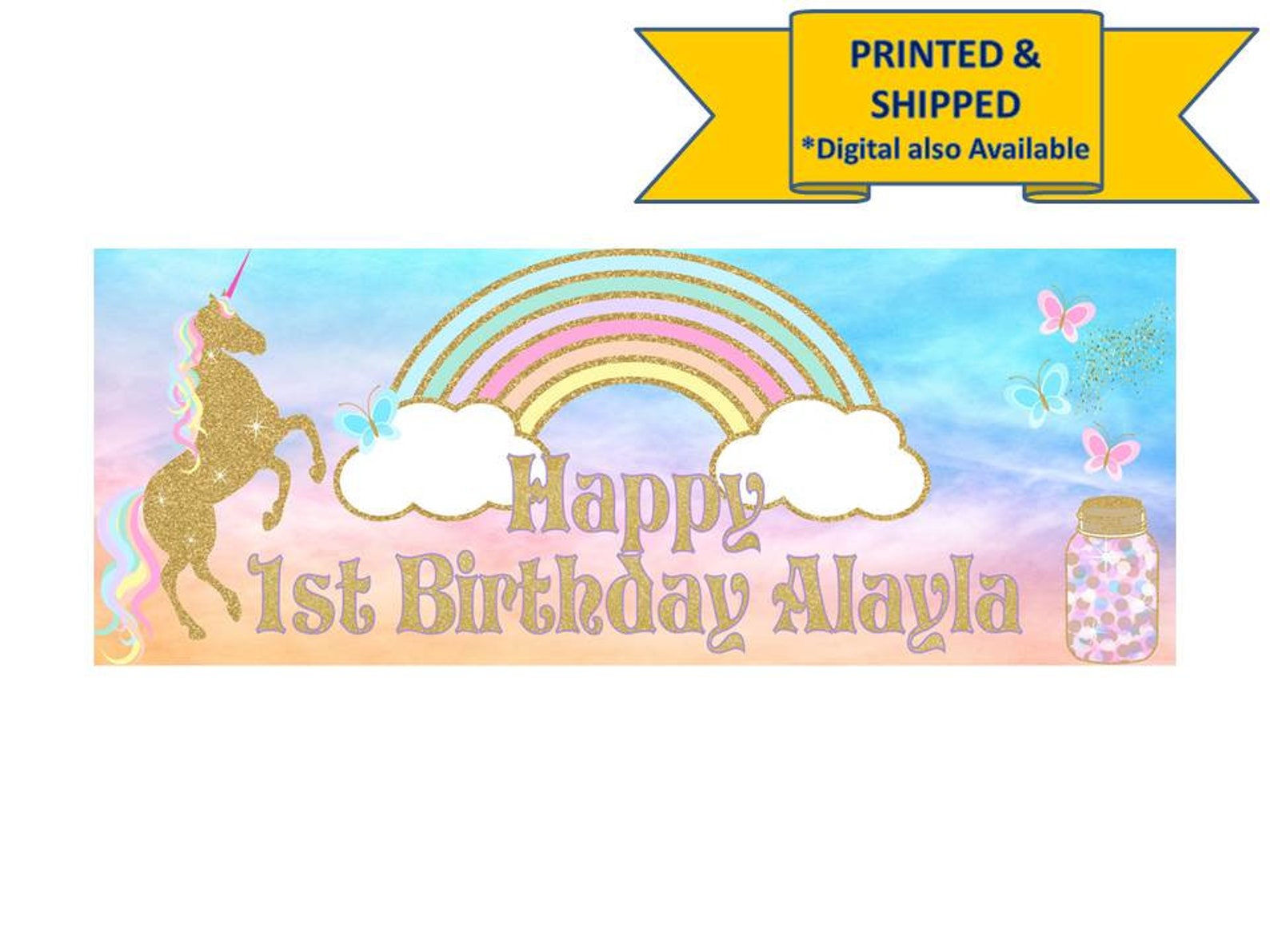 Back drops are made with 14 oz. heavy duty flame resistant polyester vinyl.
Find your Unicorn Backdrop by Size!
1'x1.5′ Ft or 12″x18″ Inches
1.5'x3′ Ft or 18″x36″ Inches
1.5'x4′ Ft or 18″x48 Inches
2'x3′ Ft or 24″x36″ Inches
2'x4′ Ft or 24″x48″ Inches *Popular Size!*
2'x6′ Ft or 24″x72″ Inches
2.5'x4′ Ft or 30″x48″ Inches
2.5'x5′ Ft or 30″x60″ Inches
3'x1′ Ft or 36″x12″ Inches
3'x2′ Ft or 36″x24″ Inches
3'x3′ Ft or 36″x36″ Inches
3'x4′ Ft or 36″x48″ Inches
3'x5′ Ft or 36″x60″ Inches
3'x5.5′ Ft or 36″x66″ Inches
3'x6′ Ft by 36″x72″ Inches
3'x8′ Ft or 36″x96″ Inches
3.5'x5′ Ft or 42″x60″ Inches
4'x2′ Ft or 48″x24″ Inches *Popular Size!*
4'x3′ Ft or 48″x36″ Inches
4'x4′ Ft or 48″x48″ Inches
4'x5′ Ft or 48″x60″ Inches
4.5'x6′ Ft or 54″x72″ Inches
4'x6′ Ft or 48″x72″ Inches
4'x8′ Ft or 48″x96″ Inches *Popular Size!*
4'x10′ Ft or 48″x120″ Inches
5'x3′ Ft or 60″x36″ Inches
5'x3.5′ Ft or 60″x42″ Inches
5'x4′ Ft or 60×48″ Inches
5'x5′ Ft or 60″x60″ Inches
5'x6′ Ft or 60″x72″ Inches
5'x7′ Ft or 60″x84″ Inches *Popular Size!*
5'x10′ Ft or 60″x120″ Inches
6'x2′ Ft or 72″x24″ Inches
6'x3′ Ft or 72″x36″ Inches
6'x4′ Ft or 72″x48″ Inches
6'x5′ Ft or 72″x60″ Inches
6'x6′ Ft or 72″x72″ Inches *Popular Size!*
6'x7′ Ft or 72″x84″ Inches
6'x8′ Ft or 72″x96″ Inches
7'x4′ Ft or 84″x48″ Inches
7'x5′ Ft or 84″x60″ Inches *Popular Size!*
7'x7′ Ft or 84″x84″ Inches
7'x8′ Ft or 84″x96″ Inches
7'x10′ Ft or 84″x120″ Inches
8'x4′ Ft or 96″x48″ Inches
8'x5′ Ft or 96″x60″ Inches
8'x6′ Ft or 96″x72″ Inches
8'x8′ Ft or 96″x96″ Inches *Popular Size!*
8'x10′ Ft or 96″x120 Inches *Popular Size!*
8'x12 Ft or 96″x144″ Inches
8'x20Ft or 96″x240″ Inches